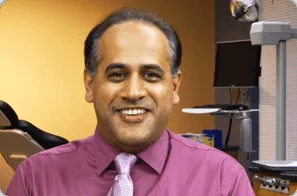 Dr. Khan is an orthodontic specialist providing care to patients of the greater Dayton area since 2001. He opened his private office in Mason in 2007. He was an orthodontic patient when he was younger. He was so impressed with the changes that occurred in his smile that he decided to choose orthodontics as his career path.
He attended the Case Western Reserve University for his dental training. He got his Advanced Dental Education at Saint Louis University and earned his certificate in orthodontics. He is a member of the American Association of Orthodontists, the American Dental Association and the Ohio Dental Association. He is also a member of the North East Cincinnati Chamber of Commerce.
His personal interests include auto racing, travel, and music (as many of his patients are aware, he enjoys many popular artists like Black Eyed Peas, Lady Gaga, and others.) Dr. Khan is married and has 3 children.
Many patients don't really understand the connection between a "straight," functional smile and their overall health. Your dental and orthodontic health can directly impact your physical health. We explain this to each of our patients so they understand the importance of treatment. We offer a caring and friendly staff that will welcome you as one of their own.
We are centrally located just off Mason Montgomery Road and offer extended after-school hours for your convenience. We believe in correcting early problems that otherwise left untreated, could complicate treatment at a later age.
---
Meet Brienda Padin
Brienda became interested in the orthodontic field through a friend. She has worked with Dr. Khan for 11 years. Brienda is originally from the Philippines but enjoys living in Ohio. This mother of two girls adores spending time with her family, especially her granddaughter.